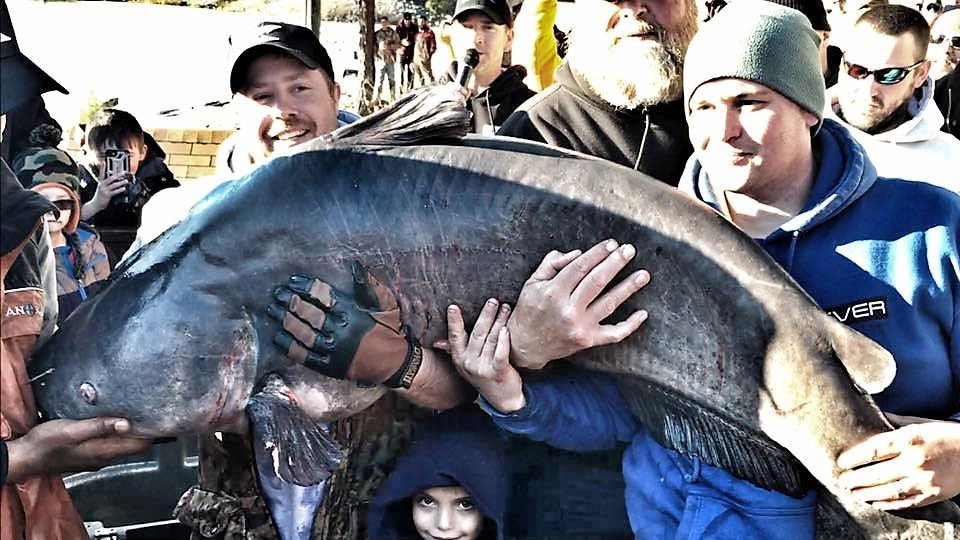 141 pound monster blue catfish, the second largest ever caught, was landed in a tournament on John H Kerr Reservoir on the Virginia/North Carolina border.
FULL WEIGHING AND RELEASE
(From The Fishing Wire)– Dale Russell Lowe, Jr has caught big catfish before, just not this big! He was fishing the Icebowl Tournament on John H. Kerr Reservoir (Buggs Island Lake). The reservoir is bounded by Virginia and North Carolina. "My cousin Stephen Faircloth fishes that tournament with me every year," said Lowe. "I had two of the most important people in the world with me on the boat. It was a bonus to have Stephen and my son Chase with me."
Catfish, blue catfish, tournament, flathead catfish, Icebowl, VA, NC, Dale Russell Lowe, Jr, Big Cat Fever Rods, Slime Line, Mad Catter Hooks
Careful handling and a thoughtful angler resulted in the big cat being CPR'ed successfully. (Scotty Knupp photo, left to right : Austin Sartin (wearing Southern Cats Apparel), Stephen Faircloth, Dale Lowe, Chase Lowe. Alan Long (Fish Bite Rod Holders), standing).
In addition to fishing with his best buddies, Lowe had good reason to expect a good tournament. "We got 3rd last year," reported Lowe. "The IceBowl Tournament is a one fish event. Last year there were 108 boats and we placed third with a 53.4-pound fish."
Lowe's personal best (PB) was previously over 100 pounds. "I caught a 100-pound blue cat in December of 2015 in the James River," declared Lowe. "He bottomed out my 100-pound spring scales and I did not have anything to keep him alive to get it certified. So, I put him back and called it 100. My PB out of Buggs had been a 75-pound blue and a 45-pound flathead."
With the good vibes going, Team Lowe started out fishing a flat near the river channel on a cold and windy day. "I was rigged with Big Cat Fever Rods, 40-pound test Slime Line, Mad Catter HD Hooks on about 18 inches of 60-pound mono leader and a 3-ounce no roll sinker," instructed Lowe. "I set all the rods in Fish Bite Rod Holders."
Read the whole story at Catfish Now