Cedar Creek Reservoir is a reservoir located in Henderson and Kaufman Counties, Texas (USA), 60 miles (97 km) southeast of Dallas. It is built on Cedar Creek, which flows into the Trinity River. Floodwaters are discharged through a gated spillway into a discharge channel that connects to the Trinity River. Wikipedia
Videos:
Featured Guides: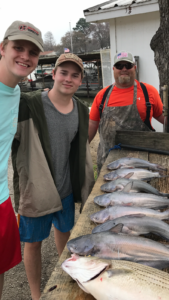 Kings Creek Adventures – When it comes to excellent guides on Cedar Creek Reservoir, Jason Barber ranks among the top. Jason has lived on the shores of Cedar Creek Lake since birth. He began fishing this lake when he learned how to walk and hold a fishing pole. He started my career as a professional Bass fisherman in 2000. He enjoyed his early success, claiming a 1st B.A.S.S. victory on the famous Sam Rayburn reservoir in 2002 and finished 3rd place in a B.A.S.S. Tour event in Florida in 2002.
Note: In the picture here to the left Jason guided my son and nephew and in a couple of hours came up with a great fish fry for the whole family!
Fishing Report: